Message of the commissioner

I'm extremely happy that for been able to design a new
Website with the objective of providing an effective service for
people and tax payers of Western Province which is number one of
the island and which collect the highest income
Readmore
Notices And Advertisements
The mission  of the  Provincial Department of Revenue is to collect taxes & other income, fulfill for the planned Economic Social and Political norms to upgrade the public life within the Western Province.  The entire staff is united to achieve the above mission
Implementations of Financial statute of the Western Province No. 06, of 1990, Western Province Mineral Tax Statute No 02 of 2012, Statute of transfer Stamp duty of Western Province  No.04 of 2010, Statute of Court fine of and transfer of fine to Local Authorities No. 04 of  1994, and collection and Supervision of Stamp duty revenue, Nation building Tax remittance by the Central Government.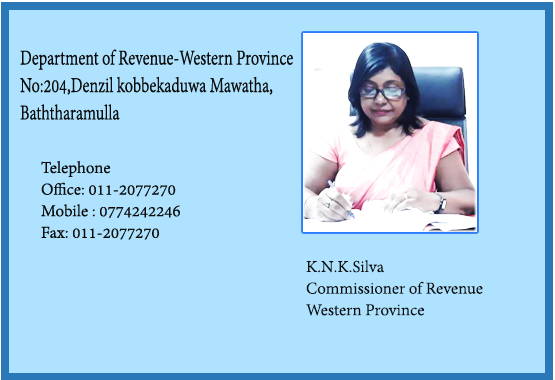 Collection of default Turnover  Tax
Charging Stamp duty on every instrument relating to a transfer of immovable property situated in the Western Province.
Giving opinion of Assessor as to determine Stamp duty on every Instrument relations to a transfer of immovable property & endorsement done by Assessor.
Collection of deficit Stamp duty and take action agenized properties which are valued under the market for Stamp duty purpose.
Last updated: September 1, 2021 at 18:11 pm